Mobile Menu App

Marketing Center



This webpage will provide you with everything you need to market and promote your new Mobile Web Menus App.
The new Web Menus mobile App includes:
Interactive Nutritional Menus

Daily menus
Ability to add product nutrient information
Ability to add promotional description
Ability to add product photos
Ability to add allergens

PDF Menus – if you don't use the Online Menu Designer you can still link to your pdf menus
Link to your Online Payment Provider
Link to your full website
Marketing section "All About School Lunch"
A free App should be FREE!
There is no extra set up cost, no per student cost, your Web Menu App is included with the premium services bundle. We are the only company to offer a website for your Nutrition Department, an interactive Online Menu Designer and a Mobile Menu App for less than $1,000/year! And the Web Menus App directly links with your website and the Online Menu Designer. No extra menu work...one and done!


The School Nutrition & Fitness Mobile "Web Menu" App is available in the App Stores!
Web Menus by School Nutrition & Fitness
By ISITE Software, LLC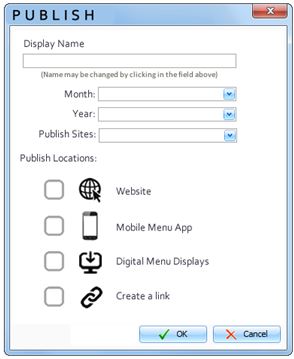 Menus made with Online Menu Design publish to the Web, to Mobile Web Menus App and to Digital Menu Boards. And menu updates are reflected instantly on the Mobile "Web Menu" App, on Digital Menu Boards and on your website. Make a menu once, send it everywhere...one and done!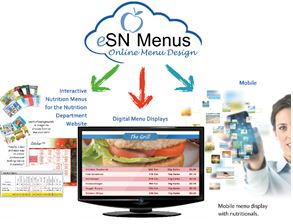 ___________________________________________________________________________________________________


Marketing and Promoting your Mobile Menu App

Click to download the Mobile Menus marketing campaign, an easy to follow guide for successfully communicating the new Mobile Menu App features.


FREE Downloadable Promotional Resources
Website Announcement | Welcome Letter | Introductory Emails | Flyers & Handouts | Automated Calling Message | Social Media
Optional: Order Marketing Materials to promote School Nutrition
Be ready for send home packets, registration packets, open house, and back-to-school events with these promotional items including:
Promotional Business Cards
Postcard Handouts
Flyers
Brochures
Call us at 866-560-1201, email us at Info@SchoolNutritionAndFitness.com, or visit SchoolNutritionNetwork.com

WEBSITE ANNOUNCEMENT
Enable Mobile Menu Link on Welcome Page

From the Admin section of your website: When you are ready to get the word out to Parents, Students and your community about the new Mobile Menu App, click the button from "Disabled" to "Enabled". This will turn-on the "New - Free Mobile Menu App" image/link on your home page and will link to the Mobile Menu information page for parents..

Marketing Tools - Click "Marketing Tools" to view an 'admin only' section with a complete set of marketing tools to promote Mobile Menus.
WELCOME LETTER
Do you send an "End of School" or "Back to School" packet home to parents. Include an announcement letter to tell parents, faculty and staff about the new Mobile Menu App and its benefits. Customize this letter to meet your district's specific needs.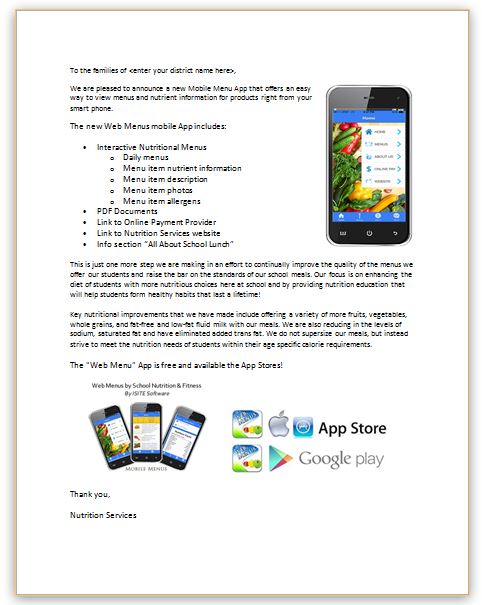 VIEW WORD DOCUMENT
INTRODUCTORY EMAILS
Use the templates below to send emails directly to parents, faculty and staff. There are text and HTML versions of the email that are included for your convenience.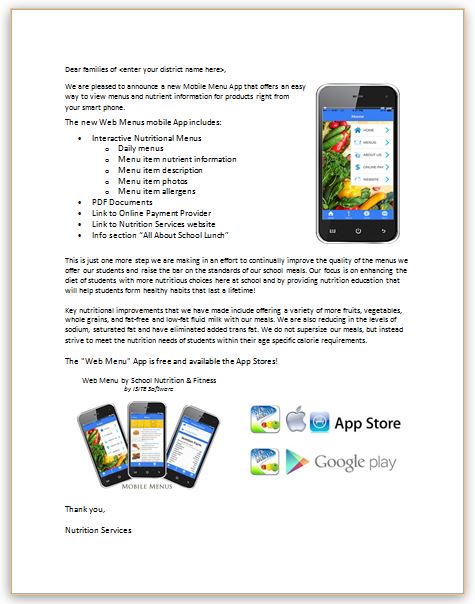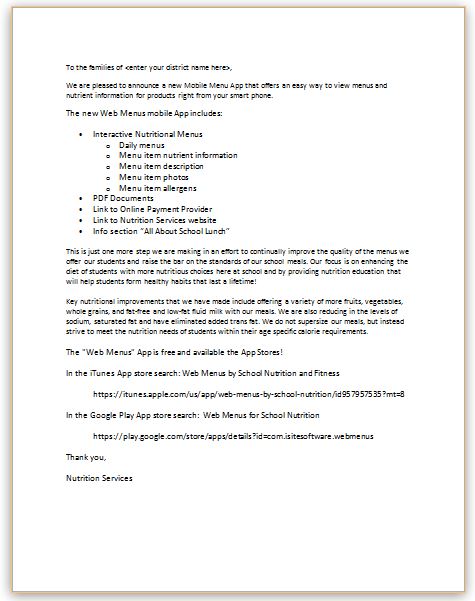 FLYERS AND HANDOUTS


Download Mobile Menus Info Flyer
AUTOMATED CALLING MESSAGE
Use this script to record a message that you can deliver with an automated calling system to let parents, students and faculty know about the new Web Menus Mobile App!
____________________________________________________________________________________________
A message from [District/School Name]

Good [morning/evening] families. This is [name and title] for [District/School Name]. We are pleased to announce a new Mobile Menu App that provides the convenience of viewing daily menus from your smart phone. You can now use this App to view School Menu nutrient and allergen information, and link to your online payment account.

This new Mobile Menu App is called "Web Menus for School Nutrition" and is available in both the Apple Store and the Google Play App store.

If you have any questions, please visit the School Nutrition Department website or call [district contact number]. Have a wonderful [morning/evening]!


____________________________________________________________________________________________
SOCIAL MEDIA
| | | | | | | |
| --- | --- | --- | --- | --- | --- | --- |
| Does your district use Social Media...such as Twitter, Instagram or Facebook for your Nutrition Department? Social media applications provide a unique way to connect with your community. Consider posting a message about Mobile Menus and post the app store links on your social media accounts. | | | | | | |